Cheapest Caribbean resorts that will make you kill to go back!
Today is your lucky day. We at the Flyers Club International spent days scouring the caribbean to find the best luxury for the best price. We want you to enjoy the warmth of the caribbean when it's extremely cold outside. Why freeze to death in a blizzard when you could be sipping on coconuts, relaxing on Pigeon Point beach and living life to the fullest.
We considered beauty, fun, happiness, people and price. Here are your list of the 7 best cheapest Caribbean Resorts:
7. Dominican Republic - Cofresi Palm Beach & Spa Resort
On a beach overlooking Bahia Cofresi, this straightforward tropical-style resort is 1.8 km from Ocean World Park and 7 km from Museo del Ámbar.
Featuring balconies or terraces, the casual rooms come with flat-screen TVs and minibars. Upgraded rooms include bay views, kitchenettes, and/or whirlpool tubs in the bathrooms. Room service is available.
Amenities include 11 restaurants and 12 bars, along with 12 outdoor pools and a beach. There are also 2 spas 2 gyms and 4 tennis courts, as well as a kids' club, a playground and water sports.
Price $116USD a night for two
6. Jamaica - Secrets St. James Montego Bay All Inclusive - Adults Only
Set on a peninsula overlooking the Caribbean Sea, this plush all-inclusive resort is 5 km from Sam Sharpe Square and 8 km from Sangster International Airport.
There are 9 restaurants and 8 bars (including 3 swim-up bars), plus a coffee shop. Other amenities include 2 outdoor pools, a spa and a fitness center.
Price $675-$725USD a night for two
Tell us if the price is worth the secrets when you visit?
5. Renaissance Aruba Resort & Casino
Set on a white-sand beach along the Caribbean Sea, this refined, palm-lined resort and casino is a 4-minute walk from the Fort Zoutman museum.
Breezy rooms come with free Wi-Fi and flat-screens, as well as sofas, and tea and coffeemaking equipment. Some have sea views. Casual 1-bedroom suites add separate living areas with sofabeds, plus balconies, microwaves and minibars. Some have whirlpool tubs. Upgraded 2-bedroom suites include dining areas. Room service is available.
In addition to a lively casino, the resort has 8 restaurants/bars, an outdoor pool and a swimming lagoon on the beach. Other amenities include a fitness center and a spa.
Price $425 + a night for two
4. St Peter's Bay Luxury Resort and Residencies, Barbados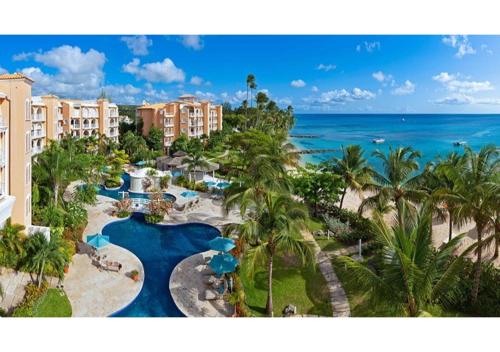 Set on the Caribbean Coast and 33 km from Grantley Adams International Airport, this relaxed beachfront resort is 6 km from the Folkestone Marine Park and Museum, and 8 km from the Barbados Wildlife Reserve.
Airy 1- to 5-bedroom villas provide free Wi-Fi, flat-screen TVs and kitchens, as well as dining areas, and balconies with sea views. Upgraded units add whirlpool tubs, and/or rooftop terraces and pools.
Amenities include 3 restaurants, an outdoor pool and a spa, as well as a fitness center, kayak and paddleboard rentals, and a children's play area. A water taxi is available.
Price $1325 + a night for two
This posh boutique hotel on Portici Beach lies 1.6 km from Maurice Bishop International Airport.
Featuring boho-chic decor, the detached and semi-detached cottages come with free Wi-Fi, flat-screens, and tea and coffeemakers. All also have plunge pools, open-air bathrooms, and sea-view verandas. Some offer private lawns, and luxe, modern 5-bedroom villas add infinity pools, kitchens and indoor/outdoor living spaces. Room service is available.
Perks include Italian dining, plus a bar by the seafront outdoor pool, and a beach pavilion with free daily yoga. There's also an Asian spa and a fitness room, along with water sports equipment.
Price $525USD + for two a night
2. Magdalena Grand Beach and Golf Resort, Tobago
Nestled between Little Rockley Bay and Tobago Plantations Golf Club, this upscale resort is also 10 km from the historic Fort King George.
Featuring balconies or terraces with bay views, the refined rooms come with free Wi-Fi and flat-screen TVs, plus minifridges and coffeemakers. Suites offer private hot tubs, and living rooms with sofabeds. Room service is available.
Meals and drinks are available for a surcharge, and all-inclusive plans are also offered. The resort has 3 restaurants, 4 bars and a casual cafe. Other amenities include 3 outdoor pools, a spa and a gym. An 18-hole golf course and a dive center are also on site.
Price $226USD + for two a night
1. Trinidad - Cheapest Caribbean Destination
We all know what a hyatt looks like so let's cut to the chase. You want to have the best trip. You want to enjoy life to the fullest. You want to feel amazing things. Well listen up carefully Trinidad & Tobago is the place for You.
A twin island: One filled with the sexiest people on this earth who love to have the wildest parties and one that is a laid back Caribbean paradise.
Trinidad's culture is very sexual and it is shown at the world's Greatest Event "Carnival". From the day after Christmas the parties begin until February where it finishes with a massive 2-day street celebration comprised of mostly scantily clad women and muscular men.
Oh, don't let me forget is not just all parties. The island is filled with hidden adventures, beautiful beaches nestled behind lush green mountains where you can smell the fresh oxygen in the air, mud volcanoes & natural spa, the most amount of bird species that you will ever see.
Trust me. Put this island on your bucket list
Price Hyatt $125USD+ for two a night
Food avg $6USD – $10USD
Parties Inclusive of Alcohol & Food $50USD+
Travel $5USD+
Conclusion Cheapest Caribbean Getaways
The Caribbean is one of the most beautiful & heart warming places on the earth. Every Island has its own uniqueness but Trinidad is life changing. The prize for the Cheapest Caribbean getaway on a price per enjoyment goes to Trinidad & Tobago because the twin island gives the best of both worlds to each and every visitor giving a lifetime of treasured memories on budget.
Join the best travel community!
Did I miss anything??